---
FACES OF THE FRONTLINE
As Covid-19 continues to affect every aspect of our lives, we'd like to express our deepest gratitude to all who are keeping us safe.
Thank you to all of our local healthcare workers for your dedication during this difficult time. We are so grateful to every one of the frontline staff at St Francis Memorial Hospital, Rainbow Valley Community Health Centre, Valley Manor and MV Hospice Palliative Care who continue to work selflessly during this stressful time. It provides our community with so much comfort knowing that you are all there for us.
We recognize and appreciate you!
---
---
MADAWASKA VALLEY – The St. Francis Valley Healthcare Foundation (SFVHF) Board of Directors is pleased to announce the appointment of Erin Gienow to the position of Executive Director effective January 6th, 2020.
Erin has worked with the Foundation for the past eight years, most recently in the role of Donor Relations Coordinator. Additionally, Erin played a key role on the Barry's Bay and Area Physician Recruitment Committee. Prior to working with the Foundation, Erin worked in the pharmaceutical sector. She is a graduate of Algonquin College in Ottawa and Laurentian University in Sudbury. Erin is local to the area, born and raised in Round Lake.
"Our Board is delighted to welcome Erin in her new role as our Executive Director" said SFVHF Board Chair Karen Tierney. "We are confident that with the knowledge and expertise she has developed over the past eight years at the Foundation, and her commitment and understanding of local healthcare and our donors, she will provide great leadership for us into the future".
"I am honoured to continue my service at the Foundation in the capacity of Executive Director. The Foundation is in a great position to build upon the tremendous momentum of the past eighteen years. Our programs and events are very well developed and I look forward to further enhancing and continuing to make a positive difference in our community. We are so very fortunate to have a great Foundation team and exceptional Healthcare partners, that are supported by a dedicated group of volunteers. The generosity and kindness of our community never ceases to amaze me. I look forward to building upon existing relationships and fostering new ones with our amazing donors and partners who truly recognize the importance of local healthcare", Ms. Gienow said.
Erin is taking over the ED responsibilities from Toni Lavigne-Conway who retired from the position at the end of 2019 after 16 years of dedicated and transformative service to the Foundation.
---
JOIN THE CLUB!
The St Francis Valley Healthcare Foundation is currently running a membership drive for our St Francis Circle Monthly Giving Club. Consider joining the club at $15/month and help us purchase equipment for our hospital! For more information about becoming a Club Member please contact us at: 613-756-3044 ext 217
Click here to become a member of the St Francis Circle Monthly Giving Club!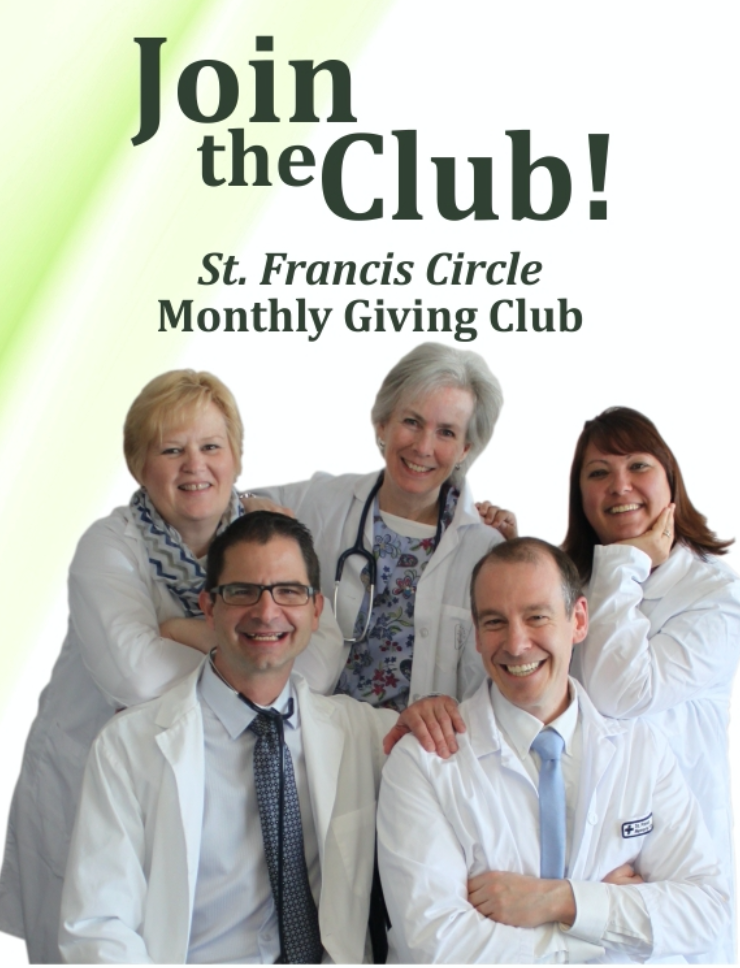 Wish Lists
Want to support local healthcare at the Hospital, Hospice Palliative Care or Valley Manor? Check out their wish lists of items needed to help them care for patients and families!
---
Singing for Valley Manor
Have you got your copy yet? This amazing CD featuring Sister Rosenda and the Kelly family is a wonderful collection of music and special tribute to Sister Rosenda.
On sale now for $20 each. Pick up your copy today at the Valley Manor, Pharmasave or Hospital Gift Shop.
---
Get To Know The Valley Manor
---
If St. Francis Memorial Hospital holds a special place in your heart because of a personal experience or that of a family member or friend, we would love to hear from you!
To share your story and experience, please contact us at:
St Francis Valley Healthcare Foundation
p: (613) 756-3044 ext 333
or email us at: office@sfvhfoundation.com
---